Nowatch is a wearable that tells you everything but the time
Health and fitness trackers without screens aren't unheard of, but the NOWATCH is stylish even without a display, but it doesn't come cheap.
There are plenty of smartwatches out there that track health metrics, and while the NOWATCH (pronounced Now Watch) is certainly a fitness tracking device, it's definitely not a smartwatch. There are many wrist-worn wearables that don't have a display. The earliest fitness bracelets such as the Misfit Shine and the first-generation Mi Band are examples. Recent examples include the Amazon Halo Band and the Whoop fitness tracker.
NOWATCH designed in Amsterdam, but produced in Finland. The Finnish company behind the wearable, also known as NOWATCH, describes it as the world's first "Awareable". NOWATCH stands out from other wearable devices with its design. It has no display, instead the dial is a replaceable disc of stainless steel or natural stone, held by magnets to the stainless steel case. The 37mm wearable is highly customizable. The case is available in gold, silver and rose finishes, and buyers can choose from ten different stone and metal discs and more than a dozen leather straps or woven straps made from recycled ocean plastic .
It Is Highly Customizable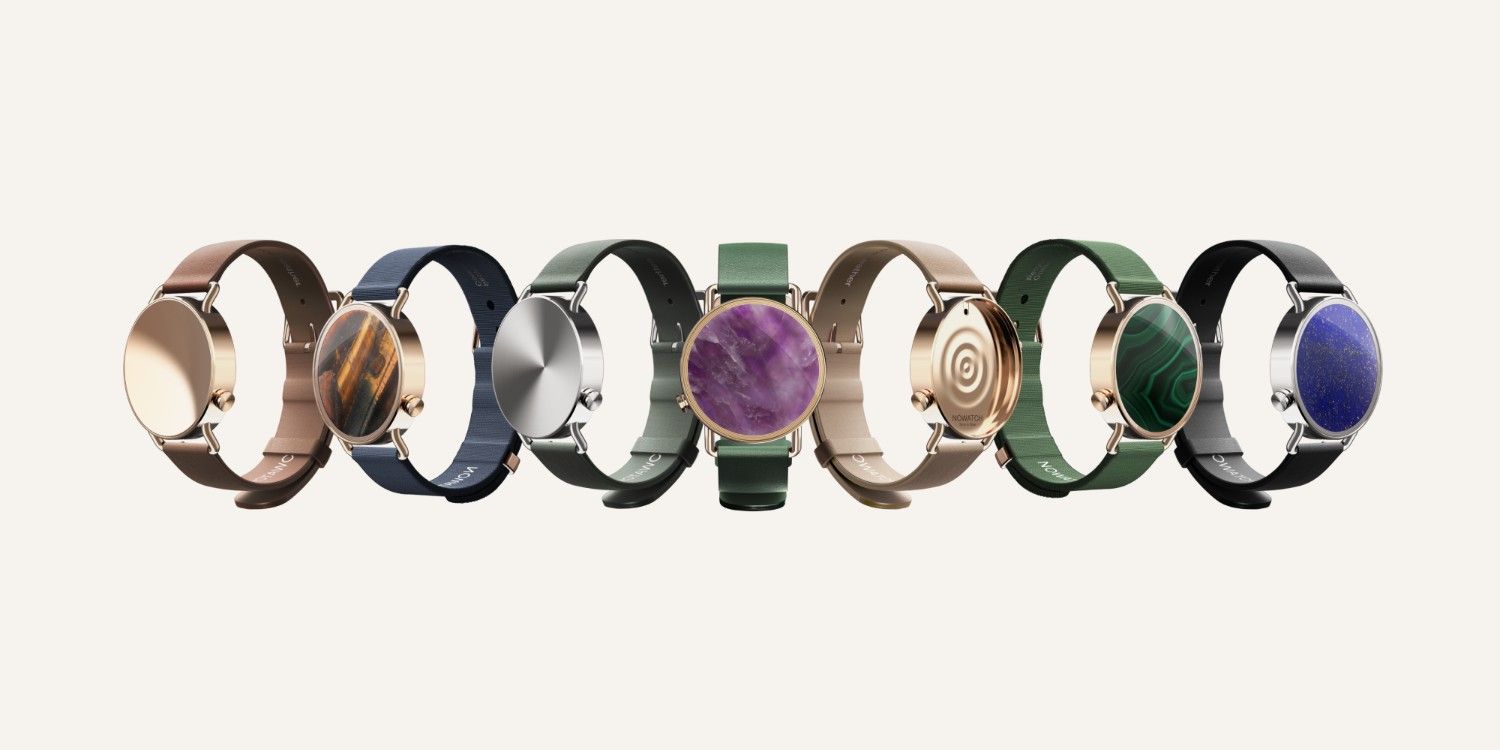 Although there is no display, there is only one physical button. It is also quite thick, probably due to It packs sensors. NOWATCH says its wearable was developed in partnership with Philips. It uses a new predictive wearable technology called Biosensing by EDA (ElectroDermal Activity), aka skin conductance. It measures stress levels continuously and can even predict the user's cognitive state up to 60 minutes in advance. The insights it provides can then help users restore balance to their mental state.
In addition to the EDA sensor, it has an infrared PPG sensor for tracking heart rate and blood oxygen levels. NOWATCH can also track sleep patterns and some physical activities like walking, running and cycling. The spec sheet says it's rated for 5 ATM water resistance, so swimming should be fine, however, users may want to switch to a water-resistant strap instead. NOWATCH also has a temperature sensor and a barometer, and has a rated battery life of 10 days. Recorded statistics can be viewed on the companion app for Android and iOS devices.
The app displays users' sensory data in real-time and provides recommendations and personalized insights to help them make the right changes to improve their health. However, users will A paid subscription is required to access these insights. NOWATCH offers monthly subscriptions for €12 per month, €108 per year or €216 for a 3-year subscription. The wearable itself starts at 363 euros. The price increase depends on whether users choose a leather strap for 59 euros (39 euros for a woven strap), a stainless steel disc for 49 euros, or a jeweled disc for 25 euros to 219 euros. NOWATCH says those who buy the wearable can now get a lifetime free membership.
MORE: How to set up blood pressure monitoring on the Galaxy Watch 5