My Hero Academia Deku Tries On Mirko's Outfit In Official New Year's Art
My Hero Academia's New Year's Artwork Horikoshi Kohei celebrates the Year of the Rabbit by having Deku dressed up as the rabbit hero Mirko.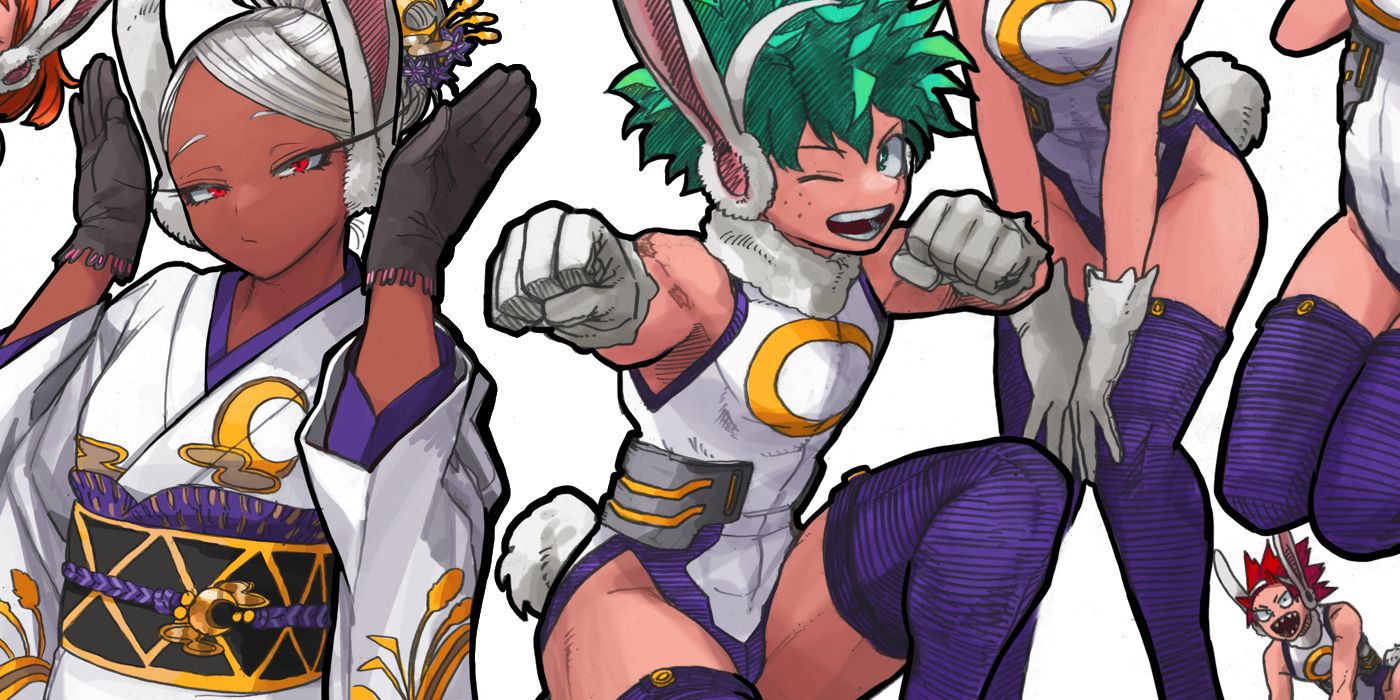 My Hero Academia creator Kohei Horikoshi is ringing in the new year (and the upcoming Year of the Rabbit) with a new festive artwork featuring some students, including Deku, trying on rabbit hero costumes.
It's fair to say that the world's most popular superhero comic has had its ups and downs in 2022, especially considering fans have been told that My Hero Academia may end in 2022. As the final battle continues, fans will definitely be more excited to see how it all ends, but the holidays should be a time when everyone can get a little rest, and that includes manga artists like Horikoshi. Horikoshi used a little of his time off to draft this artwork in anticipation of 2023.
Artwork posted to Twitter from Horikoshi's Twitter account most prominently depicts Mirko standing in front of her in a yukata themed to her hero costume, ironically making her the only one in the image not wearing her usual outfit bodysuit for the role. Ochako Uraka, who likes the new look very much, and Jiro Kyohana, who is a little shy now because Uraka agreed to join, joined. She actually wears it. In front of them is Midoriya, who seems surprisingly comfortable, striking a good action pose. In the background, Kirishima and Tomo can also be seen, also wearing Mirko's My Hero Academia costume, and Bakugo, who wasn't involved and seems to disapprove of the whole thing.
2023 is the Year of the Rabbit Hero
u3054u6328u62f6u9045u308cu307eu3057u305fu3001u3042u3051u307eu3057u3066u304au3081u3067u3068u3046u3054u3056u3044u307eu3059uff01u4ecau5e74u3082u30d2u30edu30a2u30abu3092u3088u308du3057u304fu304au9858u3044u3057u307eu3059uff01u30dfu30ebu30b3u306eu670du304cu30a2u30cbu30e1u306eu5e74u8cc0u30a4u30e9u30b9u30c8u3068u88abu308au307eu3057u305fu3002u3059u3054u3044 pic.twitter.com/oyYCFz4rab— u5800u8d8au8015u5e73 (@horikoshiko) January 2, 2023
According to the Chinese zodiac, 2023 is the year of the rabbit, so as My Hero Academia's rabbit hero, Mirko is a very logical choice to appear in a skit like this. Mirko's costume is a bit revealing, so putting other characters in it definitely qualifies as fan service—even Deku, as the many reactions to the post on Twitter can attest. Deku in Mirko's costume is actually a bit like Tiger's character. Tiger is part of the heroic team of Wild Wild Pussycats, a muscular man who wears the same skimpy clothing as his female colleagues, and some headgear like ears that stick up like Mirko's. However, Tiger has a skirt, which Deku doesn't have. Japanese texts near Deku seem to indicate he's worried about "wardrobe malfunction" so maybe he'll be better off with skirt.
Given the seriousness of My Hero Academia's final arc, it's good to still see some goofy moments through the piece, even if it's just an out-of-context picture.
More: My Hero Academia's Secret Chainsaw Cameo Removed From Anime