The 10 Most Romantic Songs From Movie Musicals
From "Singin' in the Rain" to "West Side Story," movie musicals and their many iconic love songs are important themes in film history.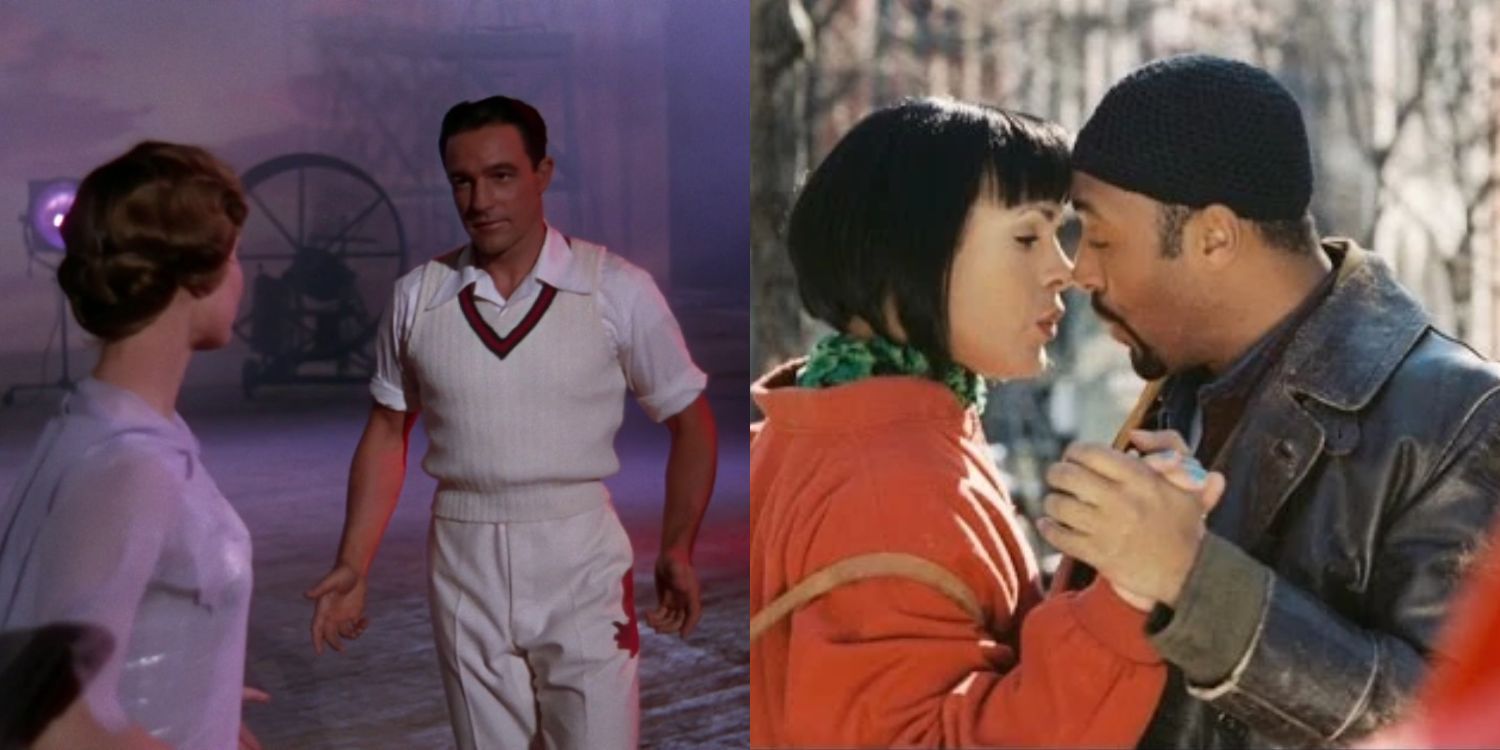 The latest movie musical, Matilda the Musical, is out now and it's an absolute smash. Adapted from Roald Dahl's novel of the same name, it tells the story of a young girl, Matilda, who uses her brilliant imagination to spark a revolution at school against the cruel Miss Trunchbull, played by Emma Thompson. Matilda the Musical thrilled audiences with its energetic choreography and impassioned music, but it lacked the one element musicals are known for — a love song.
Whether sad and dramatic or joyous and silly, love songs are some of the most memorable moments in movie musicals, and as such, they hold a special place in the hearts of audiences. It's hard to pick the best of the plethora of love songs in film history. However, many have stood the test of time, while others will go further. Including the background of the song, the tone of the music, the creativity of the lyrics and the storytelling, these love songs most touch the heartstrings.
10/10 "You Were Meant For Me"
Singin' in the Rain (1952)
Singin' in the Rain, even seventy years later, is still widely regarded as one of the best films of all time. Starring (and currently working on) legends Gene Kelly and Debbie Reynolds The latter's breakout role), Singin' in the Rain is a Hollywood favorite — a film about the wonders of filmmaking. Kelly, who plays Don Lockwood, declares his love for Reynolds' Kathy in "You're Made for Me."
9/10 "All I Ask Of You"
The Phantom Of The Opera (2004)
Thirty-seven years later, The Phantom of the Opera will close on Broadway in April 2023, making it the longest-running show in Broadway history. Thankfully for those who didn't get to see it or a grand tour, the 2004 film adaptation features equally stunning music and electrifying performances. In particular, many people didn't expect Emmy Rossum and Patrick Wilson to have such a good voice, which was most vividly expressed in their love song "All I Ask of You".
"All I Ask You" and the rest of the music in The Phantom of the Opera are conversational, although the other songs are important and encapsulate the characters' inner desires. Christine and Raoul were outspoken about the love she wanted in her life and that he could give it to her. It's just a declaration of love for the music, co-creating "All I Asked For" with beautiful vocals You" have stood the test of time.
8/10 "10 Minutes Ago"
Rodgers and Hammerstein's Cinderella (1997)
There have been multiple versions of the Cinderella story in film and television, many of which include music. And of course, there is Disney's Cinderella, which has its own love song "This Is Love". However, Rodgers and Hammerstein's version is where the love story really comes to life, including "I Love You Because You're Beautiful" and "Ten Minutes Ago. The latter, in particular, perfectly sums up the fantastic nature of love and is therefore definitely one of the best love songs.
Importantly, there are two wonderful versions of "Ten Minutes Ago". The first came from Rodgers and Hammerstein's Cinderella debut on television in 1957, starring the legendary Julie Andrews. Of course, she sings beautifully and has a lovely tone. However, there's a lot to like in Paolo Montalbán's version of Brandy from 1997. His tough vocals are perfectly paired with her lilting, breezy tone, and the constant choreography on set brings out the song's full potential.
7/10 "Come What May"
Moulin Rouge! (2001)
Many film musicals start first on the West End or on Broadway, but Baz Luhrmann Moulin Rouge! , just the opposite. The 2001 Jukebox musical was a huge success, earning an Academy Award nomination for Best Picture. It stars Ewan McGregor as Christian, a poet who falls in love with Satine, the star of the Moulin Rouge in Paris, played by Nicole Kidman. Their love was brought together by the epic and rousing song "Come What May," which was fittingly nominated for Best Original Song at the Golden Globes.
6/10 "I'll Cover You"
Rent (2005)
While many love songs are long and slow, 2005's Rent, featuring "I'll Cover You", is a beautiful and upbeat love song. The moment is unbridled pure joy as Collins and Angel reveal they're falling in love and committed to each other. That's important for showing the love between two queer characters -- as "Take Me or Leave Me" does in its own way -- but "I'll Cover You" also best captures the spirit of Rent. Life is fleeting and can be difficult for many, but finding true love can give people the strength to keep going.
While "I'll Cover You" is a very upbeat song in the first act of the film, it does have a repeat later, which is Not just the saddest song on Rent, but the saddest song in all of the musicals. Collins sang at Angel's funeral after their death, a heartrending rendition, especially when paired with "Goodbye Love."
5/10 "Somewhere"
West Side Story (1961)
There is perhaps no love story more legendary than Romeo and Juliet, whose musical adaptation, West Side Story, is also considered one of the best musical theater films of all time. Just last year, Steven Spielberg directed his second film, West Side Story, and while the direction, cinematography and performances were stellar, the 1961 version is far superior in several respects. In particular, Spielberg's version had Rita Moreno's Valentina sing "Somewhere," which Tony and Maria sang together in 1961's West Side Story.
Interestingly, Spielberg's West Side Story was closer to the original stage version in this respect, but the decision to have Tony and Maria sing gave "Somewhere" more depth and emotion. They sing about finding a place for themselves where they can be together and overcome all the obstacles that try to keep them apart. Overall, though, "Somewhere" is such a moving love song that it resonates deeply no matter who sings it.
4/10 "Suddenly, Seymour"
Little Shop Of Horrors (1986)
small Shop of Horrors is a rather dark movie musical, unexpected since the premise is about a giant talking plant. The 1986 film adaptation of the off-Broadway musical, with a score by Alan Menken, known for its work with Disney, was directed by Frank Oz, and Frank Oz Oz) is a legendary puppeteer best known for playing Yoda in Star Wars. In "Suddenly, Seymour," Rick Moranis' Seymour professes his love for Ellen Greene's Audrey, and Audrey returns.
Suddenly, soft-spoken Audrey comes alive with a stunning belt performance that will captivate audiences forever. The song is all about connection, from two characters who have lived miserable lives defined by their isolation finding each other. It does have an element of humor and irony too, catalyzed by the fact that Seymour's killer plant just ate Aubrey's boyfriend.
3/10 "Falling Slowly"
Once (2006)
If there's one movie musical that deserves better recognition than a classic, it's 2006's Once. Thankfully, it did receive a stage adaptation, which won a Tony Award for Best Musical in 2011. This Irish film centers on two aspiring musicians in Dublin, known simply as Guy and Girl, played by Glen Hansard and Markéta Irglová - who are actually the composers of all the films songs, including the incredible "Falling Slowly." It did win an Oscar for Best Original Song, so it has its back.
2/10 "I See The Light"
Tangled (2010)
Disney has no shortage of great love songs, such as "Can You Feel the Love Tonight" by The Lion King or "Beauty and the Beast" by Beauty and the Beast. However, one song that might beat those folks, and one that deserves relative recognition, is "I See the Light" from 2010's Tangled. It's another contender for Best Original Song at the Academy Awards, and while it may have lost out, "I See the Light" is Disney's truest love song.
It focuses on how Rapunzel and Flynn found out about each other's true feelings when "the mists cleared". With moving performances from Mandy Moore and Zachary Levi, "I Saw the Light" is an epiphany in a song that delightfully blends elements of classic love songs with modern and pop. All in all, "I See the Light" ranks firmly above the likes of Disney love songs.
1/10 "It Only Takes A Moment"
Hello, Dolly! (1969)
Audiences are probably best known for "It Only Takes a Moment" from Disney's Droid, where the cute little trash compactor looks at Hello, Dolly! reverently. They chose this movie for a reason A song among many great possibilities. As the title suggests, it's all about that moment, that spark that ignites the fire of pure love.