DC's Teen Titans Reunite in Heartwarming New Comic Cover
Travis Moore and Tamra Bonvillain's variant cover for Nightwing #102 features several fan-favorite Teen Titans, all grown-ups.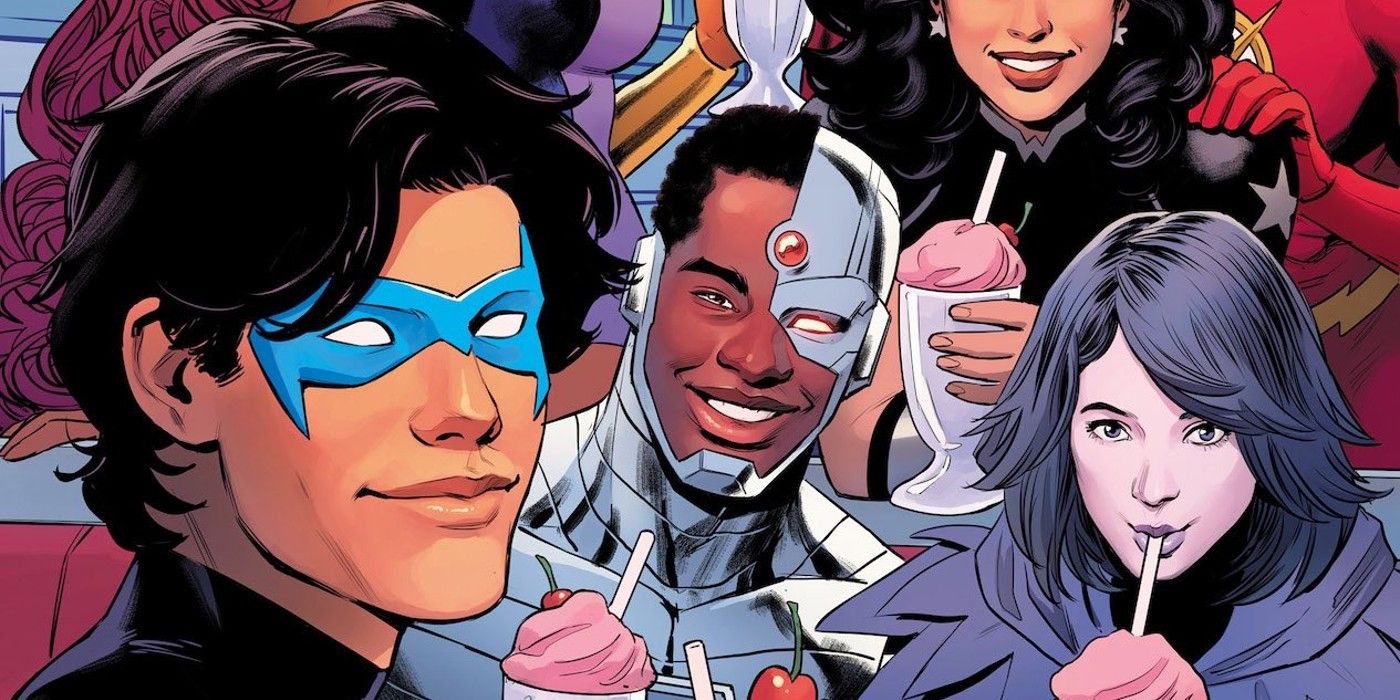 One of fan-favorite teen superhero teams, the Teen Titans, reunite in a new DC Comics cover. Illustrated by Travis Moore and Tamra Bonvillain for Nightwing #102, the heroes have all grown up and enjoyed some down time. Considering all the work they've been working on lately, it's a hard-earned vacation.
Originally debuting in 1964 and further popularized with the animated series Teen Titans starting in 2003, the titular team has been captivating the hearts of fans for decades. This new variant cover showcases fan favorites from different versions of the team. The Teen Titans and Titans roster has changed multiple times over the years, but is just as stunning and effective.
Nightwing #102 features the creative team of Tom Taylor and Travis Moore. Covers Taylor shared on Twitter included Nightwing, Starfire, Beastie Boys, Wonder Woman (Donna Troy), The Flash, Cyborg and Raven. The titular hero, like his companions, has grown up and has settled into his role as a hero quite well. In this cover, each of these ex-partners may be loose, but they've all proven themselves against local, global, interstellar and multidimensional threats. These struggles make this day off more necessary than every DC hero might be willing to admit.
The Teen Titans are All Grown-Up
Titans. Milkshakes. Nightwing #102. March. Travis Moore and @TBonvillain. pic.twitter.com/mefEOQt7xC— Tom Taylor (@TomTaylorMade) December 16, 2022
Titans has been very active since DC's Infinite Frontier and Future State paradigm shifts. Running an Academy of Titans while also fighting their own separate battles (eg: Nightwing in Blüdhaven) is no easy feat. However, these veteran heroes have done their best to raise the next generation who could become the next top hero or sidekick in the comic book universe. The Titans' base of operations and enemies may have changed from when they were the Teen Titans, but they're far more effective than they were in the past and have proven they can take on more responsibility.
This cover highlights one of the key components that has made the team so popular over the years. Although their ages may change again and again, they always possess a special, youthful vitality. As a team, they work well together in serious moments, while also emphasizing bonding activities. There is often a mix of relaxation and action. They may not always get along, and there may be alternating relationships (especially in the case of Nightwing and Starfire), but they always manage to Be a team despite these difficulties. This cover from Moore and Bonvillain perfectly combines fan-favorite Teen Titans with the core elements that make them so special and unique in DC Comics.
Fans can add this cover to their collection and keep up with the titular character when Nightwing #102 launches on March 21, 2023.
More: Static cosplay adorns his new age awesome costume